This is amazing news! 13-year old Filipino, Cris "Kesz" Valdez was awarded this year's
International Children's Peace Prize
in The Hague last September 19. This award is given annually to a child whose "
remarkable acts have made a difference in countering problems which affect children around the world.
" (Read more about the International Children's Peace Prize
here
.)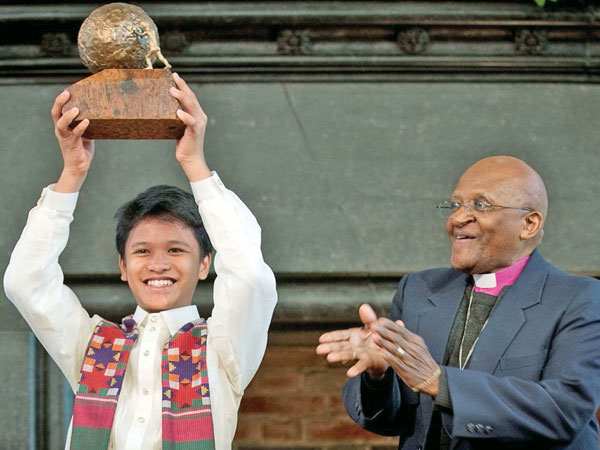 Kesz is proof that even just one person can make a massive difference. What's truly incredible about this story is that Kesz himself experienced extreme poverty, scavenging dumpsites since and even being physically abused. Somehow, despite these challenges that often cripple most people in similar circumstances, he achieved at age 7 something that is beyond what most people accomplish in their lives: he founded a charity called "Championing Community Children" that raises funds to provide basic necessities to street kids. That he has sustained this foundation over the years, helping out more than 10,000 other kids, makes his efforts even more impressive and awe-inspiring. Clearly, he is truly deserving of this award.
Making this win even move significant is that Kesz Valdez receives $130,000. Different articles I've read online seem to indicate that most of this money will be going into either his charity and others like it. That's a whole lot of money that can be used to help out a lot of people. If Kesz was able to help thousands of street kids before, imagine what kind of impact he can have through his charity now. I don't know what his personal situation is currently, but I do hope he has a comfortable life now and that he is given the opportunity to live his dreams.
Congrats, Kesz Valdez! You are a true inspiration to people all over the world and I wish that you continue to reach out to people in need of help.